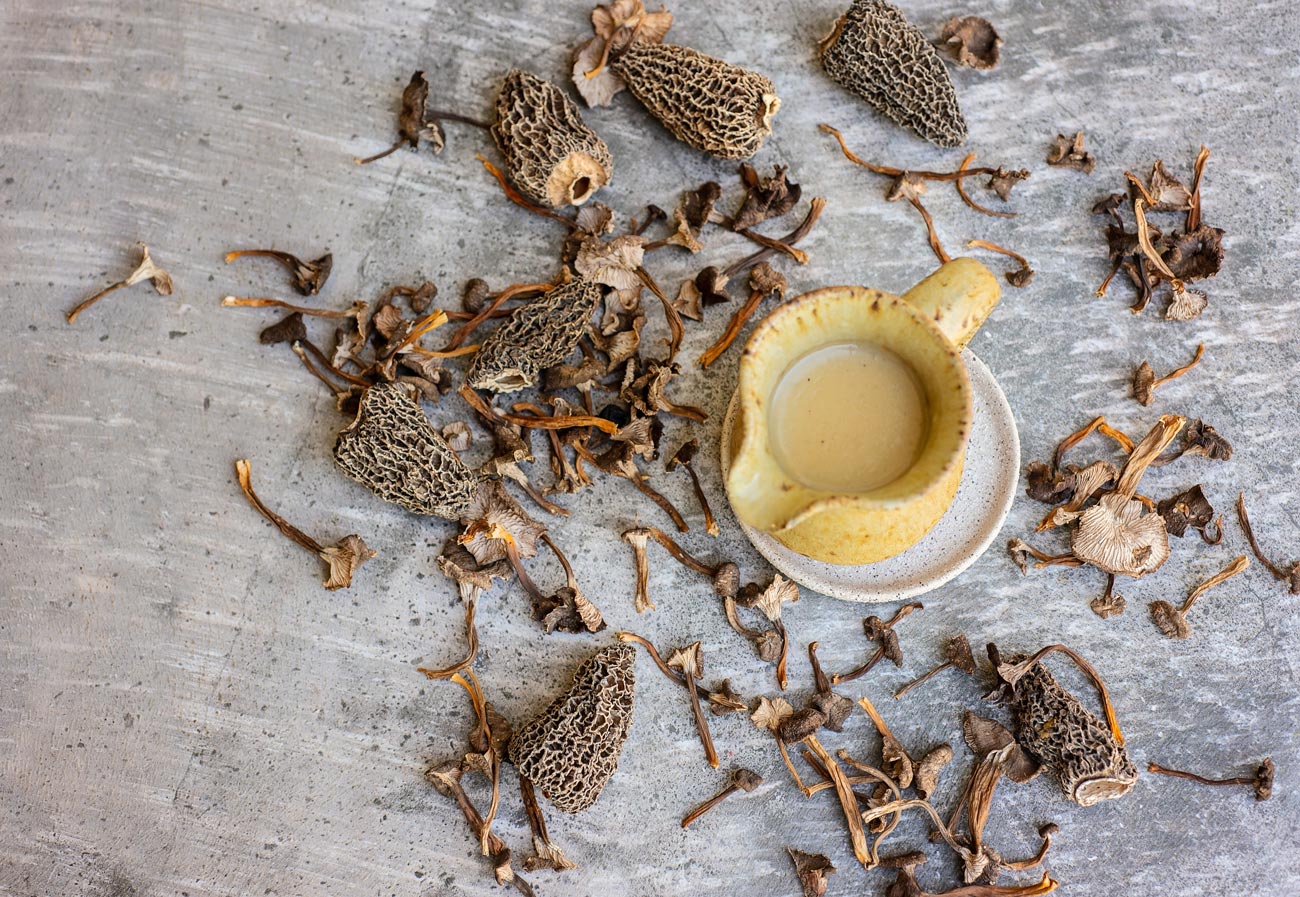 A delicious deep and flavourful alternative to a classic mushroom gravy. This creamy wild mushroom sauce is uniquely satisfying, and when made with our Vancouver Island grown-and-foraged wild mushrooms, the depth of flavour and experience become even more special. Each wild mushroom brings its own unique and savoury notes. Whether you choose to make this sauce with wild chanterelles, winter chanterelles, morels, lobster mushrooms, or other wild fungi, our recipe ensures a richness and complexity of flavour that delights both young and old. This rich, velvety gravy complements a variety of dishes, including roasted duck, pork, pasta, steamed veggies, rice, potatoes, and more.
4 cups vegetable stock
1 ½ tsp chanterelle powder (or any other wild mushroom powder)
¼ cup butter (about 50 g)
¼ cup flour (about 30 g)
1 shallot minced
1 Tbsp soy sauce
Ground black pepper to taste
Prepare the wild mushroom stock
Mix mushroom powder with warm vegetable stock to rehydrate the mushroom powder. If you don't have mushroom powder, you can grind any of our dried wild mushrooms to make it. You can adjust the quantity of mushroom powder for stronger or lighter flavour depending on your preference.
Let mushroom powder steep in the stock for about 20 minutes.
N.B. If using morel powder, you may want to strain it with a fine mesh sieve at this stage. If not strained, there will be tiny bits of wild morel mushrooms in the gravy, creating a stronger flavour and different texture. It's up to your preference. Reserve the stock.
Make the roux
Melt the butter in a pot over medium-high heat. Add and cook the shallots for about 2-3 minutes.
Make a roux by gradually adding the flour, stirring continuously until it turns very lightly golden.
Pour in the wild mushroom stock previously made, stirring the whole time.
Add the soy sauce and the pepper.
Reduce and simmer the sauce
Bring the mix to a boil then reduce heat and simmer uncovered for about 30 to 40 minutes, or until you reach desired thickness.
You can keep the gravy for about 5 days in the fridge. Reheat at low heat before serving.