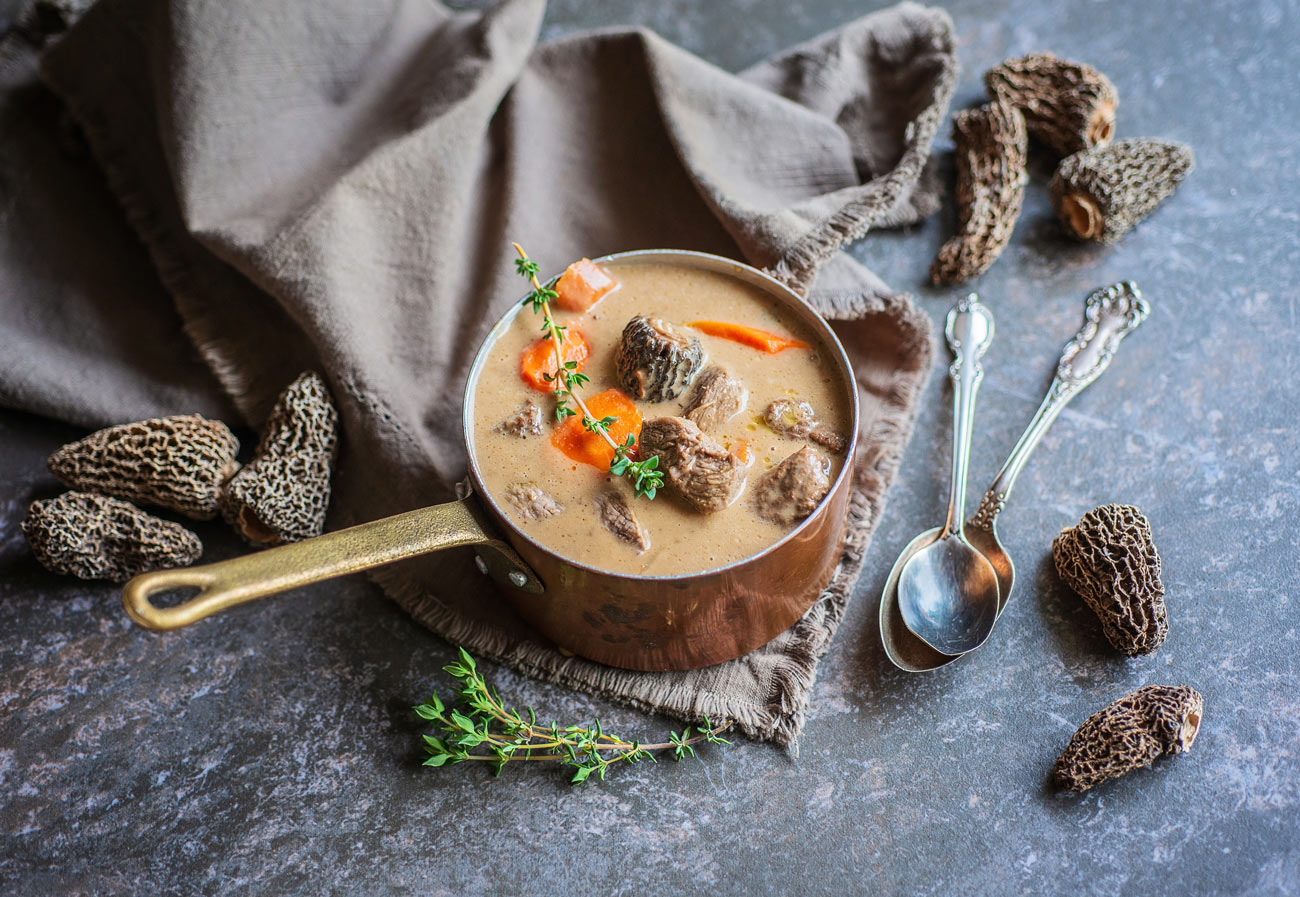 This delectable stew is a quintessential French dish that's often served for special celebrations. A delicious variation on the blanquette, the lamb is simmered in an aromatic broth of herbs, wine, and foraged wild morels then enriched with cream. Rice or a fresh baguette are ideal as accompaniments.
Total Time:
2h+ one night in the fridge (approx 12 h)
34 g dried morels
2 carrots
1 onion
2 garlic cloves
3 cups chicken stock
1 cup 18% cream
1 cup sherry wine (cooking wine)
15 oz lamb leg or shoulder, diced, fat removed
25 g butter
1 Tbsp flour
1 ½ Tbsp mustard
½ Tsp thyme
3-4 bay leaves
2 sprigs rosemary
Salt & pepper
Prepare the lamb marinade
Chop onion, garlic and carrots and add to a medium-sized bowl.
Add the lamb to the bowl after dicing it into approx 2-inch cubes, taking care to remove the fat.
Add the herbs (thyme, bay leaves, rosemary), sherry wine, mustard, salt & pepper. Stir to combine.
Cover bowl with cling film and let lamb marinate in the fridge for at least 12 hours.
Separate marinade ingredients and rehydrate the morels
Strain the marinade juice into a bowl. Set aside.
Remove and seep the carrots and herbs in a separate container from the meat.
Rehydrate your dried morel mushrooms for about 15 minutes in ¼ cup of sherry and 3 cups chicken stock. Once fully rehydrated, strain the morel stock and add to the marinade liquid.
Cook the lamb
Heat the butter in a large, heavy-bottomed pot over medium-high heat.
Brown the lamb cubes for five minutes, then add a tablespoon of flour, stirring for another 2-3 minutes.
Add the marinade, morel stock, and herbs. Reduce heat, cover, and let simmer for about 30 minutes.
Then add carrots and morels to the pot and simmer for another 20-25 minutes.
Finish cooking
Strain all cooking liquid into a new pot, and set the other ingredients aside.
Add the cream to the liquid, stirring and letting it reduce over low heat until you have a nice creamy texture.
Put all ingredients back into the pot, mix well, and serve!